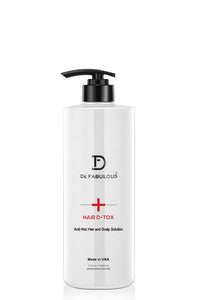 De Fabulous Hair D- Tox Treatment ( formerly Hair Beautox )
Anti-frizz Hair & Scalp Solution
Hair D-TOX is a revolutionary treatment that uses botanical ingredients to give you the hair you've always dreamed of.
MIRACLE INGREDIENTS:
Glycolic Acid:
1. Helps hair withstand heat
2. Makes hair more manageable
3. Exfoliates the scalp
4. Resulting in less flaking
Cysteine Protein:
1. Works in synergy
2. Restores lost proteins
3. Reduced curl volume
Acai Berry Oil Properties:
1. Highly moisturizing
2. Natural emollient
3. Restores elasticity to hair
4. Anti-bacterial
5. Protects hair from Free Radicals
Hair D-TOX penetrates deep into the core, depositing Cysteine protein, natural oils and fruit acids to strengthen the hair from the inside out. Smoothing, hydrating and sealing the hair on a strand by strand level making hair smooth and manageable.
(This product is for professional license cosmetologists only, not for resale)